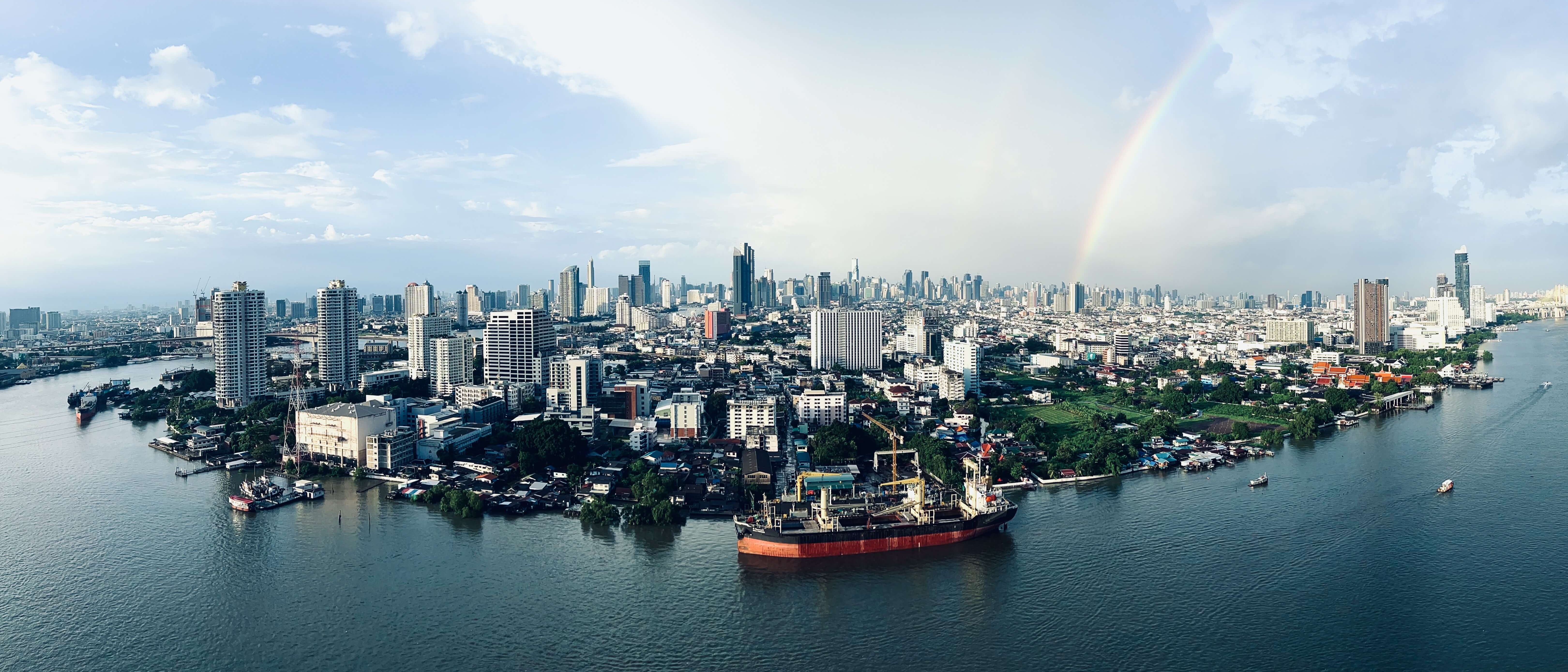 Bangkok, the capital city of Thailand, is a vibrant and bustling metropolis known for its rich history, culture, and modernity. Here are some key details about this dynamic city:
Geography: Bangkok is situated in the central part of Thailand and is the country's largest city. It is located along the banks of the Chao Phraya River and covers an expansive area.
Population: As of my last knowledge update in September 2021, Bangkok had a population of over 10 million people, making it one of the most populous cities in Southeast Asia.
Culture: Bangkok is a melting pot of cultures and traditions. It seamlessly blends the ancient with the modern, with numerous temples (such as Wat Phra Kaew and Wat Pho) standing alongside skyscrapers and shopping malls.
Cuisine: Thai cuisine is world-renowned, and Bangkok offers a diverse range of food options. You can savor street food like Pad Thai, Tom Yum, and green curry, or dine in luxurious restaurants serving both traditional and international dishes.
Tourist Attractions: The city boasts a plethora of tourist attractions, including the Grand Palace, Chatuchak Weekend Market, Jim Thompson House, and the vibrant nightlife on Khao San Road.
Transportation: Bangkok has an extensive transportation network, including a modern Skytrain (BTS) and an underground metro (MRT) system, which makes it relatively easy to navigate the city. The city is also known for its iconic tuk-tuks and long-tail boats along the river.
Economy: Bangkok is the economic center of Thailand, with a diverse economy that includes finance, manufacturing, and tourism. It's also home to many multinational corporations and serves as a regional hub for business.
Climate: Bangkok has a tropical monsoon climate, characterized by hot and humid weather throughout the year. The city experiences a distinct wet season from May to October and a dry season from November to April.
Please note that some details may have changed since my last knowledge update in September 2021. If you need more specific or up-to-date information about Bangkok or have any other questions, feel free to ask!
Interesting Facts
City of Angels: Bangkok's full name is the longest place name in the world: "Krung Thep Mahanakhon Amon Rattanakosin Mahinthara Ayuthaya Mahadilok Phop Noppharat Ratchathani Burirom Udomratchaniwet Mahasathan Amon Piman Awatan Sathit Sakkathattiya Witsanukam Prasit," which translates to "City of Angels, Great City of Immortals, Magnificent City of the Nine Gems, Seat of the King, City of Royal Palaces, Home of Gods Incarnate, Erected by Visvakarman at Indra's Behest."
Floating Markets: Bangkok is known for its vibrant floating markets, such as Damnoen Saduak and Amphawa, where you can buy fresh produce, local cuisine, and crafts from boats on the canals.
Tuk-Tuks: The iconic three-wheeled tuk-tuks are a popular mode of transportation in Bangkok. They offer a fun and adventurous way to navigate the city's bustling streets.
Temples Galore: Bangkok is home to numerous stunning temples, including Wat Phra Kaew (Temple of the Emerald Buddha) and Wat Pho (Temple of the Reclining Buddha), which are important religious and cultural landmarks.
Street Food Capital: Bangkok is renowned for its delicious street food. You can find a wide variety of affordable and mouthwatering dishes throughout the city, from pad Thai to green curry.
Grand Palace: The Grand Palace is a must-visit attraction. It served as the official residence of the Kings of Siam (now Thailand) for over 150 years and is known for its intricate architecture.
Khao San Road: Khao San Road is famous for its vibrant nightlife, backpacker culture, and street vendors. It's a hub for travelers looking for entertainment and cheap accommodations.
Cultural Festivals: Bangkok hosts numerous cultural festivals and events throughout the year, such as Songkran (Thai New Year) and Loy Krathong (Festival of Lights).
Chao Phraya River: The Chao Phraya River runs through Bangkok and is an essential part of the city's transportation system, with water taxis and ferries providing scenic routes.
Skyline Views: Bangkok boasts a stunning skyline with modern skyscrapers. You can enjoy panoramic views of the city from rooftop bars like the famous Sky Bar at Lebua State Tower.
Tourism Destionations
Wat Pho (Temple of the Reclining Buddha): This iconic temple is known for its massive golden Buddha statue and stunning architecture.
Grand Palace: A historic and opulent complex that once served as the royal residence. Visitors can explore the impressive architecture and the revered Emerald Buddha temple.
Wat Arun (Temple of Dawn): This temple is famous for its intricate design and its location along the Chao Phraya River, providing breathtaking views.
Asiatique the Riverfront: A modern open-air mall along the river, offering shopping, dining, and entertainment options.
Chinatown: Explore vibrant streets filled with markets, street food, and cultural attractions in this bustling district.
Khao San Road: A famous backpacker hub with a lively nightlife scene, street food, and budget-friendly accommodations.
Floating Markets: Experience the unique atmosphere of traditional Thai markets on the water, such as Damnoen Saduak and Amphawa.
Lumphini Park: A serene oasis in the heart of the city, ideal for relaxing, jogging, and enjoying the outdoors.
Chatuchak Weekend Market: One of the largest markets in the world, offering a wide range of goods, including clothing, antiques, and delicious street food.
Jim Thompson House: A museum showcasing the art and artifacts collected by the American silk entrepreneur Jim Thompson in his traditional Thai-style home.
Must Eat / Try
Must Drink / Try
Notes
Do not underestimate the dangers of air pollution, especially if you have asthma.
There will be a lot of dump tourists and cheap sex seekers, so be careful about them and avoid fighting with other foreigners.Don't bring up politics in any context. Yes, it's Thailand, and you may do a lot of things in there, but still you should know Thai prisons are the worst.
I'm telling you, especially if you see the city as a gigantic brothel, that everyone isn't just there to make you happy.
Don't stay on Khason Road or Sukhumvit; instead, cross the river and make some Thai pals.
DON'T EAT SCORPION