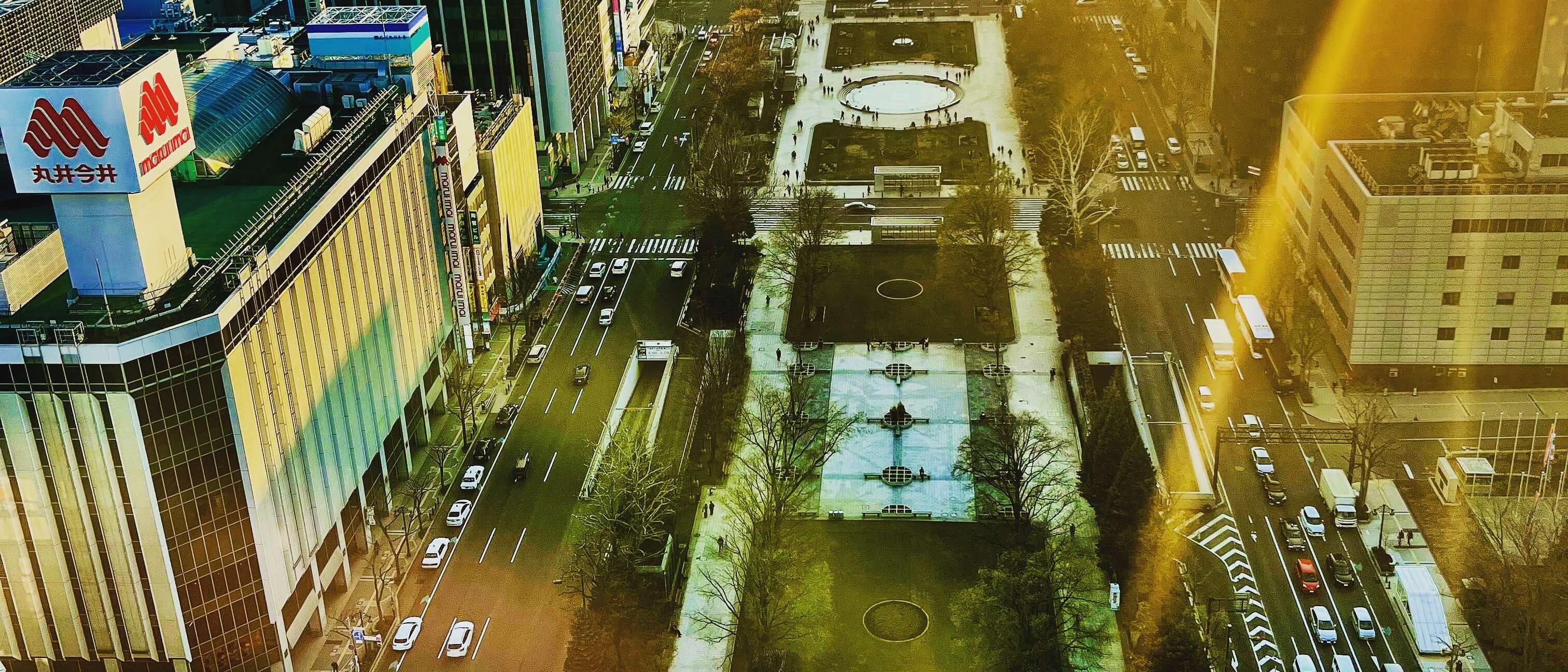 Sapporo is the capital and largest city of Hokkaido, Japan's northernmost island. It's known for its vibrant culture, delicious cuisine, and beautiful natural surroundings. Here are some key details about Sapporo:
Geography: Sapporo is located on the Ishikari Plain, surrounded by mountains, including the iconic Mount Moiwa. The city's location offers both urban and outdoor recreational opportunities.
Population: As of my last knowledge update in September 2021, Sapporo had a population of over 1.9 million people, making it the fifth-largest city in Japan.
Sapporo Snow Festival: One of Sapporo's most famous events is the Sapporo Snow Festival (Yuki Matsuri), held annually in February. It features stunning ice and snow sculptures that attract millions of visitors from around the world.
Winter Sports: Sapporo is a popular destination for winter sports enthusiasts. The city hosted the 1972 Winter Olympics and offers excellent skiing and snowboarding opportunities in nearby resorts.
Odori Park: This central park spans over a dozen blocks in the heart of Sapporo and hosts various events and festivals throughout the year. It's a great place for a leisurely stroll.
Sapporo Beer: Sapporo is home to the famous Sapporo Beer Brewery. You can visit the Sapporo Beer Museum and learn about the history of beer production in Japan while enjoying tastings.
Sapporo Clock Tower: The Sapporo Clock Tower is a historic landmark and a symbol of the city. It's one of the few remaining Western-style buildings from the early days of Sapporo's development.
Tanukikoji Shopping Street: Explore Tanukikoji Shopping Street for a wide range of shops, boutiques, and restaurants. It's a great place to shop for souvenirs and try local dishes.
Susukino: Susukino is Sapporo's entertainment district, known for its nightlife, bars, restaurants, and entertainment options.
Sapporo Ramen: Sapporo is famous for its regional style of ramen, known as Sapporo ramen. It typically features a miso-based broth, chewy noodles, and savory toppings.
Historic Villages of Hokkaido: Located on the outskirts of Sapporo, this open-air museum showcases historic buildings from the early days of Hokkaido's settlement.
Maruyama Park: Visit Maruyama Park for its beautiful cherry blossoms in spring and the Maruyama Zoo, which is Japan's northernmost zoo.
Sapporo Dome: The Sapporo Dome is a multipurpose stadium that hosts various events, including sports games and concerts.
Interesting Facts
Designed City: Sapporo is one of the few cities in Japan that was intentionally designed from scratch rather than evolving organically. It was planned and built during the Meiji Era (late 1800s) to serve as the capital of Hokkaido.
Hosted the Winter Olympics: Sapporo is the first city in Asia to host the Winter Olympics. It held the games in 1972, which contributed to the city's reputation as a winter sports destination.
Sapporo Beer: Sapporo is famous for its beer, and the Sapporo Beer Brewery is one of Japan's oldest and most renowned. The brewery offers tours and tastings for visitors.
Snowfall: Sapporo experiences heavy snowfall during the winter months. Snow can cover the cityscape, creating a picturesque winter wonderland and making it a great destination for snow enthusiasts.
Sapporo Ramen: Sapporo is the birthplace of miso ramen, a popular style of ramen known for its rich, savory broth and hearty toppings. You can find delicious Sapporo ramen all over the city.
Sapporo TV Tower: The Sapporo TV Tower in Odori Park is 147.2 meters tall and offers panoramic views of the city. It's often illuminated at night, creating a beautiful skyline.
Maruyama Zoo: Maruyama Zoo in Sapporo is the oldest zoo in Hokkaido and is known for its conservation efforts and its famous penguin parade.
Sapporo Snow Festival: The Sapporo Snow Festival is one of Japan's most famous winter events, drawing millions of visitors. It features incredible ice and snow sculptures that light up at night.
Hokkaido Shrine: The Hokkaido Shrine is an important Shinto shrine in Sapporo, known for its beautiful gardens and annual festivals.
Historical Buildings: While Sapporo is a modern city, it still retains some historical Western-style buildings, including the Sapporo Clock Tower and the former Hokkaido Government Building.
Susukino Ice Festival: In addition to the Snow Festival, Sapporo also hosts the Susukino Ice Festival, where you can see intricate ice sculptures in the city's entertainment district.
Lavender Fields: Sapporo is a gateway to Hokkaido's beautiful lavender fields, especially in Furano and Biei, which bloom during the summer months.
Sapporo Factory: This shopping and entertainment complex in a former brewery building offers a unique blend of history and modern retail experiences.
Tourism Destinations
Sapporo Odori Park: This central park is the heart of Sapporo and hosts various events throughout the year. It's particularly beautiful during the Sapporo Snow Festival when it's adorned with intricate snow sculptures.
Sapporo TV Tower: Visit the Sapporo TV Tower in Odori Park for panoramic views of the city and enjoy the observation deck's breathtaking scenery.
Sapporo Beer Museum: Discover the history of Sapporo's famous beer at the Sapporo Beer Museum and enjoy tastings of their various brews.
Former Hokkaido Government Building (Akarenga): This iconic red brick building is a symbol of Sapporo and now serves as a museum showcasing the history and development of Hokkaido.
Sapporo Clock Tower: Visit this historic clock tower, which is one of Sapporo's oldest buildings and serves as a symbol of the city's early development.
Maruyama Park: During cherry blossom season, Maruyama Park is a must-visit. It's also home to Maruyama Zoo, Japan's northernmost zoo.
Hokkaido Shrine: Explore the serene Hokkaido Shrine, set amidst beautiful forested grounds. It's a peaceful oasis in the city.
Hokkaido University: Stroll through the picturesque campus of Hokkaido University, known for its beautiful Gingko Avenue and historic buildings.
Historic Village of Hokkaido (Kaitaku no Mura): Explore this open-air museum on the outskirts of Sapporo, where historic buildings from Hokkaido's early settlement have been preserved.
Susukino: Known for its nightlife and entertainment, Susukino is a bustling district with restaurants, bars, clubs, and a lively atmosphere.
Moerenuma Park: Designed by renowned artist Isamu Noguchi, this unique park features artistic landscapes, sculptures, and a glass pyramid. It's a great place for a leisurely stroll.
Okurayama Ski Jump Stadium: If you're a fan of winter sports, explore the Okurayama Ski Jump Stadium and take the chairlift to the top for stunning views.
Mount Moiwa: Enjoy breathtaking views of Sapporo from the summit of Mount Moiwa, accessible via a ropeway.
Nijo Market: Sample fresh seafood at Nijo Market, a bustling fish market where you can try Hokkaido's renowned seafood dishes.
Shiroi Koibito Park: Indulge your sweet tooth at Shiroi Koibito Park, a chocolate factory and theme park known for its white chocolate cookies.
Must Eat / Try
Sapporo Ramen: Sapporo is famous for its regional style of ramen, characterized by a rich miso-based broth, chewy noodles, and savory toppings like buttered corn and vegetables.
Sapporo Soup Curry: Enjoy a comforting bowl of soup curry, a fusion of Japanese curry and a flavorful soup base, often with a choice of meats and vegetables.
Hokkaido Seafood: Savor fresh Hokkaido seafood, including crab, scallops, squid, and uni (sea urchin). These can be enjoyed as sashimi, grilled, or in hotpot dishes.
Genghis Khan (Jingisukan): Try this Hokkaido specialty, which consists of grilled lamb or mutton slices served with a variety of dipping sauces and vegetables.
Kaisen Don: Sample a seafood rice bowl, known as kaisen don, featuring a colorful array of fresh seafood over a bed of rice.
Sweets and Desserts: Explore Sapporo's thriving dessert scene, including soft-serve ice cream, cheesecake, and the city's signature Shiroi Koibito cookies.
Jingiskan Pizza: Experience a unique fusion of Genghis Khan barbecue flavors on a pizza, often with lamb, onions, and a special sauce.
Squid Ink Ice Cream: Try this unusual ice cream flavor that's surprisingly delicious. It's a delightful combination of sweet and savory.
Yubari Melon: Yubari, a city near Sapporo, is famous for its sweet and juicy melons. Taste Yubari melon in various forms, such as fresh slices, desserts, or melon bread.
Hokkaido Cheese: Hokkaido is known for its dairy products, so don't miss out on trying Hokkaido cheese in dishes like cheese tarts, fondue, and cheese-filled croquettes.
Ishikari Nabe: Warm up with a hot pot dish known as Ishikari Nabe, featuring salmon, vegetables, and miso broth.
Corn: Hokkaido is known for its sweet and flavorful corn. You'll find it as a common topping in ramen and as a side dish in many restaurants.
Must Drink / Try
Sapporo Beer: Start with the city's most famous drink, Sapporo Beer. Enjoy it at local bars, restaurants, or the Sapporo Beer Museum, where you can taste different brews.
Sake: Explore Hokkaido's sake culture by trying local varieties of this traditional Japanese rice wine. Many bars and restaurants in Sapporo offer an extensive sake selection.
Hokkaido Wine: Taste Hokkaido's wine, which has been gaining recognition for its quality. Try wines made from locally grown grapes, including the popular Koshu variety.
Notes
Damn cold even in summer
Definitely visit beer museum and try craft beer