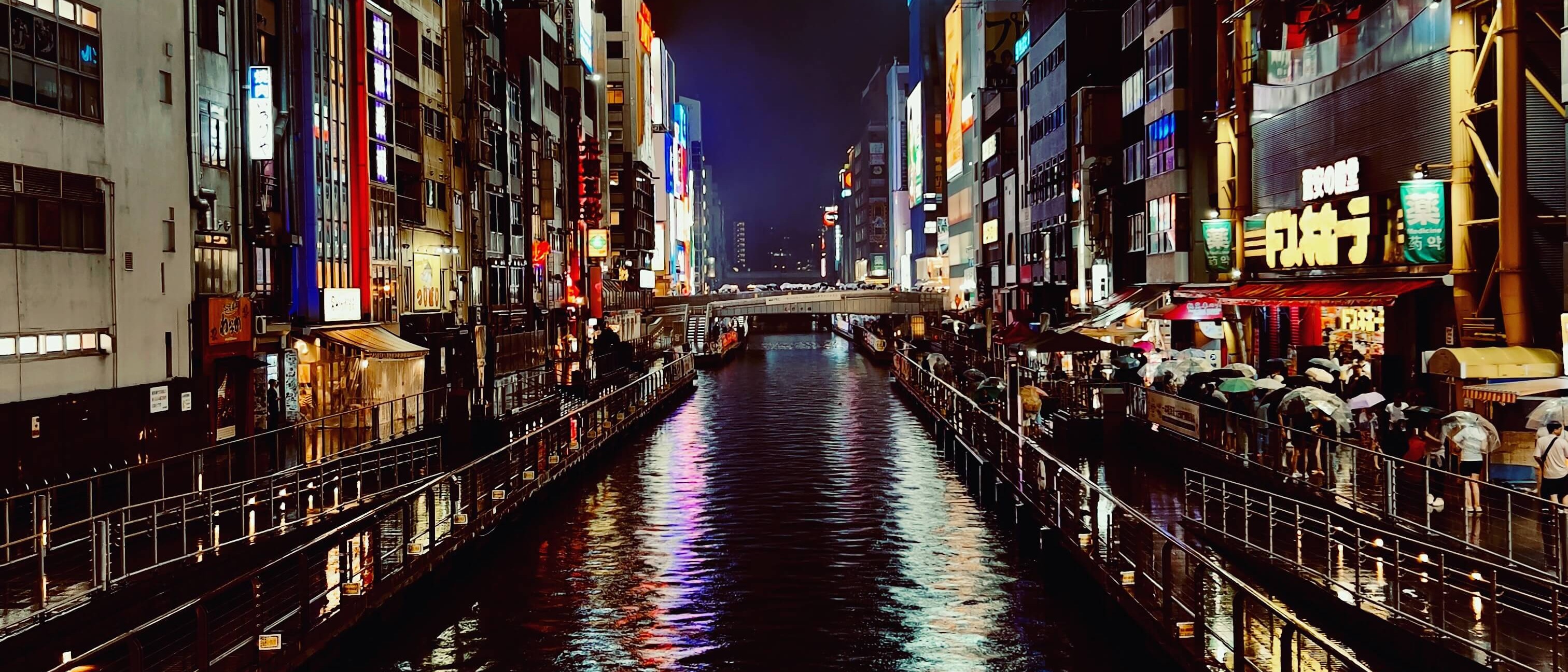 Osaka is a vibrant and bustling city located in Japan. It is the capital of the Osaka Prefecture and is known for its rich history, modern architecture, and lively street culture. Osaka is often referred to as the "Kitchen of Japan" because of its reputation for delicious street food and culinary excellence.
Geography: Osaka is situated in the Kansai region on the island of Honshu, Japan's largest island. It is located at the mouth of the Yodo River on Osaka Bay.
Population: Osaka is one of Japan's most populous cities, with millions of residents. It's a major economic and cultural hub.
Economy: Osaka is a major economic center in Japan and is known for its thriving business districts. It's home to various industries, including manufacturing, finance, and commerce.
Culture: The city has a rich cultural heritage with historical landmarks such as Osaka Castle, which played a significant role in Japan's unification during the 16th century. There are also numerous museums and theaters that showcase traditional Japanese arts and culture.
Cuisine: Osaka is famous for its street food and local dishes. Takoyaki (octopus balls), okonomiyaki (savory pancakes), and various types of sushi are popular choices. The Dotonbori area is a must-visit for food enthusiasts.
Entertainment: Osaka is known for its vibrant nightlife and entertainment options. Dotonbori, a popular district, is filled with neon lights, restaurants, bars, and entertainment venues.
Transportation: The city has an extensive public transportation system, including subways and buses, making it easy to get around. Osaka is also well-connected to other major cities in Japan by train.
Tourism: Tourists often visit Osaka for its attractions like Universal Studios Japan, the Osaka Aquarium Kaiyukan, and the Tsutenkaku Tower. It's also a gateway to explore nearby cities like Kyoto and Nara.
Festivals: Osaka hosts various festivals throughout the year, including the Osaka Tenjin Matsuri, one of Japan's oldest and most important festivals.
Interesting Facts
The Nation's Kitchen: Osaka is often referred to as the "Nation's Kitchen" because of its reputation as a culinary hub in Japan. The city takes its food seriously, and you'll find a wide variety of delicious street food and local dishes, including takoyaki (octopus balls) and okonomiyaki (savory pancakes).
Osaka Castle: Osaka is home to Osaka Castle, one of Japan's most iconic landmarks. The castle played a significant role in the country's history and is surrounded by a beautiful park, making it a popular tourist attraction.
Universal Studios Japan: Osaka is home to Universal Studios Japan (USJ), one of the country's most popular theme parks. It features attractions based on popular movies and characters from Universal Pictures.
Modern Architecture: While Osaka has a rich historical heritage, it's also known for its modern architecture. The Umeda Sky Building, with its floating garden observatory, and the Abeno Harukas skyscraper are notable examples of contemporary architecture in the city.
Dotonbori: Dotonbori is a vibrant entertainment and dining district in Osaka. It's famous for its neon lights, street food stalls, and bustling nightlife. The district is a must-visit for those looking to experience the energetic side of Osaka.
Osaka Aquarium Kaiyukan: This impressive aquarium is one of the largest in the world and features a diverse collection of marine life, including a massive tank with a whale shark, one of the most iconic species housed there.
Osaka's Friendly People: Osaka is known for having some of the friendliest and most outgoing people in Japan. The locals are often referred to as "Osaka no kuidaore," which means they are extravagant when it comes to food.
Historic Street: Shinsaibashi-suji: This bustling shopping street in the Shinsaibashi district has a history dating back to the 17th century. It's a great place for shopping, dining, and soaking in the local culture.
Transport Hub: Osaka is a major transportation hub in Japan. It's well-connected by rail to other major cities like Tokyo and Kyoto, making it a convenient starting point for exploring the Kansai region.
Tourism Destinations
Osaka Castle: This iconic castle is a symbol of Osaka and a must-visit attraction. Explore the beautifully reconstructed castle, its museum, and the surrounding Nishinomaru Garden for a glimpse into Japan's history.
Dotonbori: This bustling district is known for its vibrant nightlife, neon lights, and street food. Stroll along the canal, sample local delicacies, and take in the lively atmosphere.
Universal Studios Japan (USJ): If you're a fan of theme parks and movies, USJ offers a range of thrilling rides and attractions based on popular films and characters.
Tobita Shinchi: Tobita Shinchi is a unique and historic area in Osaka, known for its distinct character and traditional architecture. While it's primarily a red-light district, it also offers a glimpse into Japan's yukaku culture, with well-preserved wooden buildings and a nostalgic atmosphere.
Kuromon Ichiba Market: This lively market is a food lover's paradise. Sample a wide range of street foods, fresh seafood, and local snacks as you explore the bustling stalls.
Tsutenkaku Tower: An iconic landmark in Osaka, Tsutenkaku Tower offers panoramic views of the city from its
Namba Parks: This modern shopping complex is known for its unique architecture and beautiful rooftop garden. It's a great place to relax and shop in the heart of Namba.
Shinsaibashi Shopping Street: This historic shopping street is a paradise for shoppers. It's lined with a variety of shops, boutiques, and department stores where you can find everything from fashion to souvenirs.
Osaka Aquarium Kaiyukan: This world-class aquarium features a variety of marine life, including a massive tank with a whale shark. It's an educational and awe-inspiring experience for visitors of all ages.
Shitenno-ji Temple: As Japan's oldest Buddhist temple, Shitenno-ji is a significant historical and cultural site. Explore its beautiful grounds, pagoda, and the serene atmosphere. observation deck. It's especially beautiful at night when the tower is illuminated.
Sumiyoshi Taisha Shrine: Known for its unique architectural style featuring beautiful arched bridges, Sumiyoshi Taisha is a tranquil and picturesque shrine worth visiting.
Hozen-ji Temple: Located in the vibrant Dotonbori district, this small temple is known for its moss-covered statue of Fudo Myoo. Visitors can splash water on the statue as a form of prayer.
Osaka Museum of History: Situated next to Osaka Castle, this museum offers a fascinating journey through Osaka's past with interactive exhibits and panoramic views of the city.
Must Eat / Try
Takoyaki: These savory octopus-filled balls of batter are Osaka's most famous street food. You'll find stalls selling them all over the city.

Okonomiyaki: Often called "Japanese pancakes" or "savory pancakes," these are customizable, savory griddled dishes made with cabbage, batter, and various toppings. Try it at a specialized okonomiyaki restaurant.

Kushikatsu: These are skewers of breaded and deep-fried meat, seafood, and vegetables. Dip them in a savory sauce for a delightful crunch.
Must Drink / Try